What is Target Enrichment?
Target Enrichment is a pre-sequencing DNA preparation step where DNA sequences are either directly amplified (amplicon or multiplex PCR-based) or captured (hybrid capture-based). These enriched DNA fragments can then be sequenced using DNA sequencers. Target Enrichment is the method for Targeted Sequencing, also known as Resequencing.
With target enrichment, only part of a whole-genome is enriched and sequenced, or regions of interest, without sequencing the entire genome of a sample. In order to only focus on the specific regions of a genome or DNA sample, Target Enrichment is required.
Below is an example of the CleanPlex® amplicon-based targeted enrichment workflow.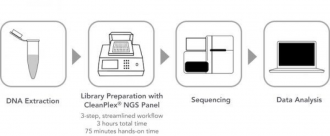 Figure 1. A Typical Targeted Sequencing Workflow with Target Enrichment
Targeted sequencing and target enrichment are essential to many fast-growing clinical and industrial applications where cost and speed are more important.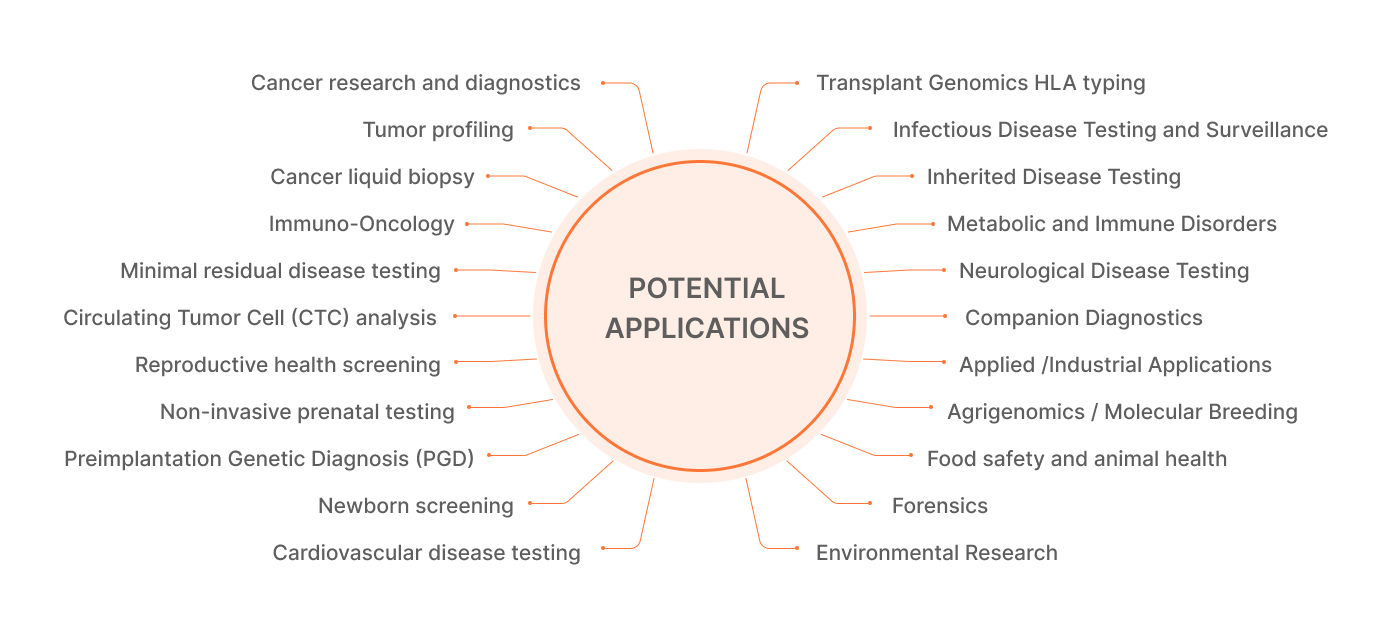 Target Enrichment with NGS
Next-Generation Sequencing (NGS) is a method to simultaneously sequence thousands to millions of DNA molecules and has provided new levels of accessibility for research and industries.
Improvements in DNA sequencing technologies since 1990 have resulted in dramatic reductions in time and cost. This enabled researchers the ability to sequence entire genomes, and exomes quickly and efficiently. However as we gain a better understanding of our genome and how specific genes or even mutations can affect diseases, there is an increased need for a more focused examination of specific regions of the genome.
With target enrichment, specific gene panels or hotspot panels are curated and designed to allow parallel interrogation of specific genomic regions of interest on multiple samples faster and cheaper than whole-genome sequencing.
Target Enrichment Techniques
The two most commonly used techniques for NGS target enrichment are multiplex PCR-based (Amplicon Sequencing) and Hybrid Capture-based Enrichment.
Amplicon Sequencing is a faster, easier, and more cost-effective option than hybridization-based alternatives. Therefore, amplicon sequencing is a more suitable option for efficient gene panel testing and production-scale applications (including clinical diagnostics and industrial genomic screening). Additionally, amplicon sequencing allows for dealing with low DNA input, such as with viral detection and detection sensitivity and DNA/RNA input requirements.
Hybrid Capture-based Target Enrichment can interrogate significantly large target regions (up to a human whole-exome), making it a good option for broader scoped research and discovery projects. It should be noted that this method tends to have a low on target-rate on smaller panels due to its inherent lower specificity of hybridization probes. Due to the above reasons, scientists and clinicians tend to employ multiplex PCR for smaller or hotspot panels for the detection of single nucleotide polymorphisms (SNPs) and/or small insertions/deletions. Hybrid capture is typically employed for large target regions, or targets that involve significant structural changes, which would otherwise be more difficult to target with PCR based methods.
Below is a comparison of typical workflows of Amplicon-based target enrichment and hybrid capture-based target enrichment.
A TYPICAL AMPLICON SEQUENCING LIBRARY PREPARATION WORKFLOW
Multiplex PCR
Background
Cleaning
Index PCR
Library ready
for NGS
A Typical Hybrid Capture Target Enrichment workflow
PCR
Amplification
Adaptor
Tagging DNA
Fragment DNA
Hybridization
(overnight)
Capture
Hybrids on
Beads
Index PCR
Library ready
for NGS
Benefits of NGS Target Enrichment with Paragon Genomics
The benefits of the CleanPlex NGS Target Enrichment include:
Efficient, Streamlined Workflow
In under 3 hours, our panels generate sequencing-ready libraries using a rapid, three-step protocol with minimal hands-on time.
Cost Reduction
Higher on-target and uniform amplification leads to significant reduction in overall sequencing cost by allowing more multiplexed samples in one sequencing run.
Sensitive Detection
Highly efficient multiplex PCR chemistry allows low limit of detection with confident variant calling.
Superb DNA Enrichment Performance
Prepare high-quality NGS libraries with excellent on-target performance, high mapping rate, and high uniformity. CleanPlex Panels' on-target rates are consistently higher than hybrid captured-based small target enrichment panels.
CleanPlex® Target Enrichment Solutions
Our CleanPlex® patented targeted sequencing technology provides comprehensive solutions to precision diagnostics in oncology, infectious disease, inherited disease, reproductive health, neurology, cardiology, and many other applications.
Obtain reliable data using expertly curated and optimized NGS panels with high genomic coverage
All Platforms

Generate high quality NGS libraries compatible with Illumina® and Ion Torrent ® sequencing platforms

Low Input

Use as little as 100 pg of DNA for germline genotyping

Simple Workflow

Reduce sequencing cost with high coverage uniformity and high on-target performance

High Performance

Obtain reliable data using expertly curated and optimized NGS panels with high genomic coverage
Additional NGS Target Enrichment Resources
Explore CleanPlex Custom NGS Panels
Submit your design online and get your custom NGS panel in just 2 weeks. As many as 20,000+ amplicons can be multiplexed in a single reaction (pool) to create small to large panels for any application for either Illumina® or Ion Torrent™ platforms.
Build Your Own NGS Target Enrichment Panel
Submit your design using ParagonDesigner™, our free, web-based tool for an instant design coverage report, and receive a quote. Be ready to provide details on your targets of interest.
Optimized Workflow and Custom Panels with Paragon Genomics 
Our mission at Paragon Genomics is to provide high-quality target enrichment solutions to the genomics community to advance precision medicine and research. Our technologies and products have been adopted by hundreds of prominent Next-Generation Sequencing (NGS) labs around the world.
With our platforms, we efficiently produce unique and customized NGS assays to meet the needs of researchers, testing labs, and biopharma precision medicine projects.
Request a Free Target Enrichment Consultation
Have specific requests or questions? Schedule a free consultation with our PhD-level expert scientists to learn how our best-in-class custom panel design services can help you advance your work.
Customized, in-depth sequencing applications for cost-effective, high-throughput sequencing.