Detecting Rare Mutations with ctDNA Liquid Biopsy
Liquid biopsy is a method used to detect specific mutations in cell-free, circulating tumor DNA (ctDNA) from biofluids, such as plasma, serum, urine, and cerebrospinal fluid. Researchers around the world are actively investigating the use of ctDNA as a biomarker for profiling tumors, monitoring the effectiveness of therapies, assessing the clonal evolution of tumor cell populations, identifying resistance mechanisms, detecting early disease, and measuring minimal residual disease. Regardless of the specific use, liquid biopsy has the benefit of being non-invasive, and thus allowing samples to be easily collected for serial assessments. Mutation detection in liquid biopsy, however, is challenged by the extremely low fraction of ctDNA in the cell-free DNA (cfDNA) samples, making accurate detection of rare mutations difficult.
Next-generation sequencing (NGS) has made it possible to detect a large number of mutations in many genes on lots of samples. By using targeted NGS panels, sequencing can be focused on clinically relevant targets so that each target is sequenced thousands or tens of thousands of times to ensure a high degree of sensitivity. High specificity is achieved using error-correction techniques to remove errors that arise from sequencing and amplification of the DNA. 
CleanPlex® UMI Lung Cancer Panel
Ultrafast, Confident Detection of Low-Frequency Variants
The CleanPlex® UMI Lung Cancer Panel is a targeted NGS assay designed for rapid and high confident detection of low-frequency variants across the hotspot regions of 23 genes associated with lung cancer. This panel is specifically designed to work with cell-free DNA (cfDNA) and FFPE DNA for precise analysis of tumor DNA in liquid biopsy and tumor profiling applications. Starting with just 20 ng of DNA, sequencing-ready libraries can be prepared using a single-tube workflow in just 3.5 hours. Low-frequency variants below 0.5% allele frequency can be confidently detected with high specificity using just 30 ng of DNA.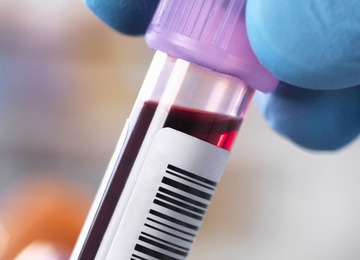 The panel is powered by Paragon Genomics' CleanPlex UMI Technology which is a multiplex PCR-based NGS target enrichment method for precise tumor DNA analysis. CleanPlex UMI Technology features a simple and rapid workflow and uses a proprietary molecular barcoding chemistry to uniquely label and differentiate the two strands of each DNA molecule. The incorporated unique molecular identifiers (UMIs) allow PCR and sequencing errors to be corrected in the sequencing data, resulting in improved sensitivity and specificity for variant detection. 
Confident Variant Detection with UMI Error Correction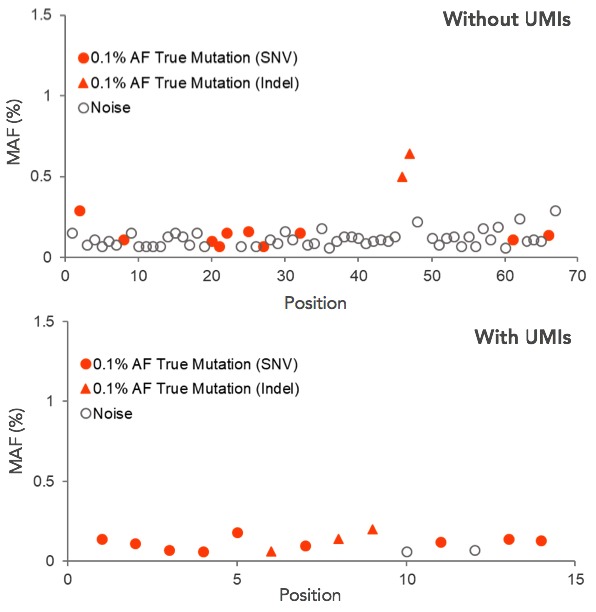 CleanPlex® UMI Lung Cancer Panel for Detecting Low-Frequency Variants using a Targeted Amplicon Sequencing Approach And Molecular Barcodes
Download our poster from the American Society of Human Genetics (ASHG) 2018 Annual Meeting to see the full dataset demonstrating CleanPlex UMI Lung Cancer Panel's performance.
Free Custom Panel Consultation
High-Performance Targeted Sequencing Solution for Cancer Liquid Biopsy – ctDNA detection
CleanPlex Custom NGS Panels offer excellent performance and high level of customization to help you build smarter NGS assays. To create a custom panel for Cancer Liquid Biopsy – ctDNA detection, schedule a free consultation below by entering your email address.
At Paragon Genomics, we take your privacy and data very seriously. You can review our Privacy Policy online or download the PDF.