CleanPlex® Amplicon-Based NGS Panels for Sequencing
Comprehensive NGS Target Enrichment Solution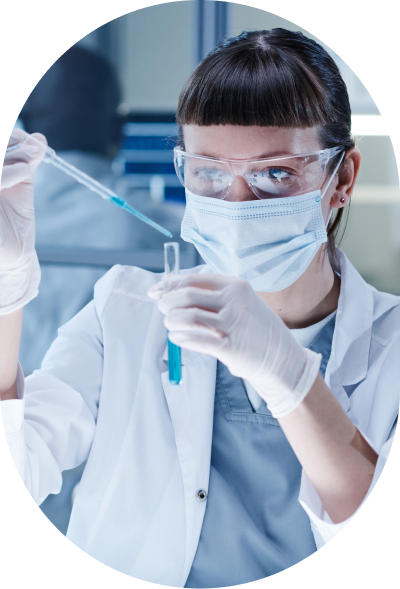 Application Markets
Use CleanPlex Kits for your genomic testing or research projects
Application Highlight: Single Viral Copy Detection Sensitivity in Wastewater Samples
Prof. Edwin Oh from the University of Nevada along with his colleagues from the University of Arizona performed a WGS study to detect SARS-CoV-2 variants in wastewater using CleanPlex SARS-CoV-2 FLEX Panel. Compared to hybrid capture and other amplicon-based technologies, the lab was able to show that NGS libraries prepared with CleanPlex had the specificity and sensitivity to sequence single viral genomes. Read the paper here.
Customer Spotlight:
The Old Fight is New:

Tackling Malaria with Next-Generation Sequencing

This customer spotlight features Professor Bryan Greenhouse of UCSF and his lab's efforts to build out their genomic surveillance infrastructure to transform the landscape of malaria research. Their modular community panel, developed with Paragon Genomics, empowers researchers across the world to take a deep-dive into the genome of P. falciparum. Read the piece below to hear more about Dr. Greenhouse's personal story, scope of research, and how his lab has harnessed the power of the panel to answer questions related to population genetics, transmission dynamics, and drug resistance surveillance.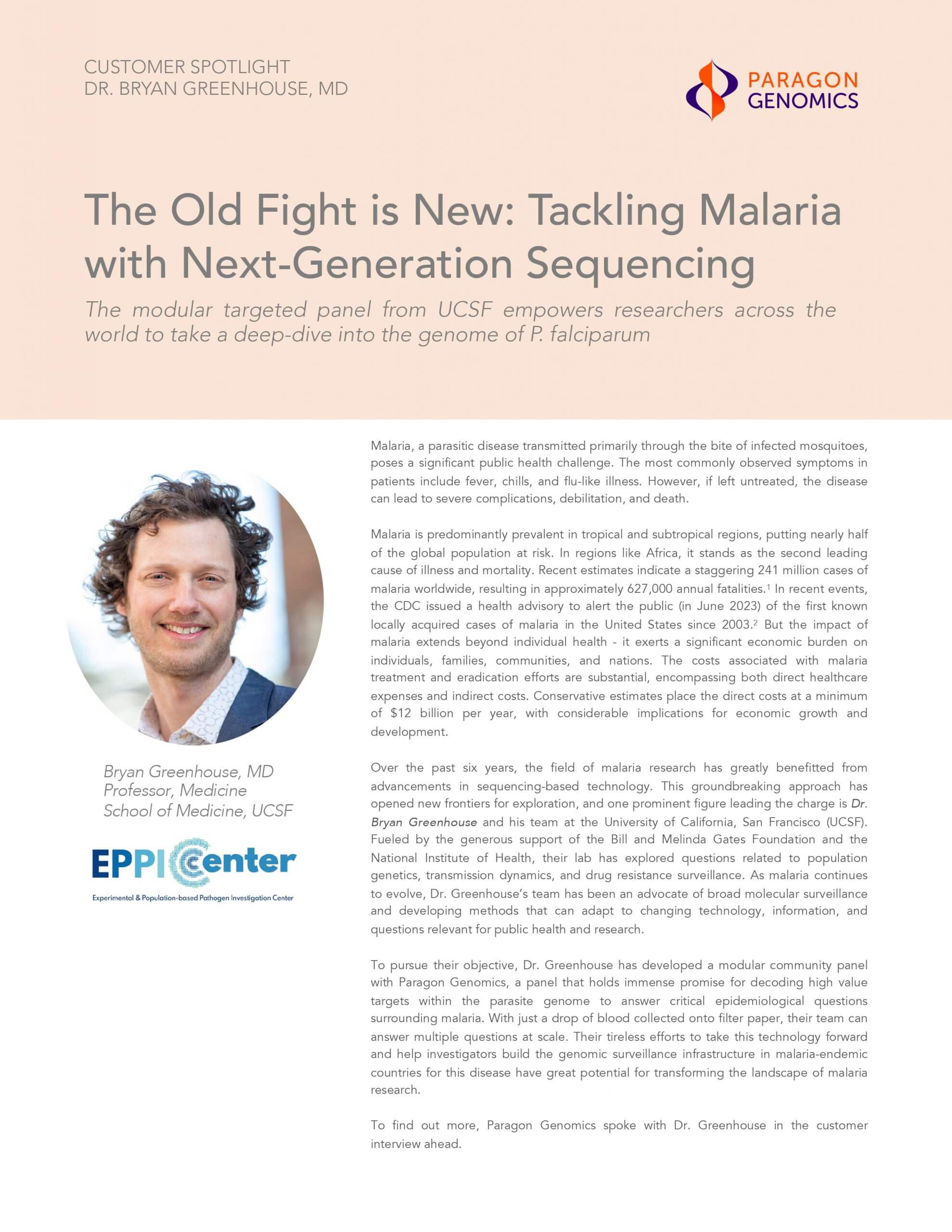 1600+

Custom Next-Generation Sequencing (NGS) Panels Delivered to

300+

NGS Labs
Multiplex PCR-based Target Enrichment and Library Preparation Methods
Targeted DNA or RNA-Seq
3-hour workflow

Low DNA/RNA input

Up to 20,000 amplicons per pool

Unique PCR background cleaning
ctDNA Liquid Biopsy
3.5-hour workflow

PCR/Sequencing error correction

Ultra sensitivity (0.1%)

Unique molecular barcoding chemistry
Testimonials on CleanPlex NGS Kits
Affordable and easy-to-use product

"When we decided to choose a target enrichment platform, we had several choices and I am delighted that we chose Paragon Genomics. Paragon Genomics has enabled us to move our sequencing in-house with an affordable and easy-to-use product. They assisted us every step along the way from choosing the amplicons, to guiding us through library preparation to assisting with analysis. I strongly recommend their CleanPlex® amplicon-based targeted sequencing approach and could not be happier with their product."
I was very impressed by how well the CleanPlex SARS-CoV-2 panel worked

"I was very impressed by how well the CleanPlex SARS-CoV-2 panel worked when we evaluated it back in March. Working with Paragon Genomics, we were able to leverage the panel to quickly launch a SARS-CoV-2 whole-genome sequencing assay and used it effectively for a number of genomic epidemiology studies. "
Complete viral genomes from clinical samples with low viral content

"We're using Paragon's CleanPlex and CleanPlex UMI technologies to sequence RNA viruses. These technologies enable us to rapidly and cost-effectively obtain complete viral genomes from clinical samples with low viral content. Further analyses of viral genomes, including the identification of minor variants, elucidates viral diversity and evolution. Paragon has enthusiastically worked with us to tackle this new application; they have diligently designed panels to our specifications, meeting with us frequently to optimize the design."
Great PCR uniformity and on-target rate

"Paragon Genomics designed a high-quality NGS custom panel for us within two weeks. Its CleanPlex® targeted library technology is fast and easy to use with great PCR uniformity and on-target rate. We are very satisfied by CleanPlex product performance and the superb technical and customer support provided by the Company."
A 'future proof method' and a 'one and done' approach

"We are looking for a 'future proof method', a better way to do high throughput screening at a species level diagnosis. Paragon Genomics has developed a rapid 2.5-hour library preparation allowing multi-gene methodology, letting us look at lots of unique loci across multiple genomes. It offers a 'one and done' approach instead of many different disconnected experiments."
Who's Choosing CleanPlex NGS Panels
300+ organizations globally are using CleanPlex for their targeted sequencing applications