Turn your sequencing lab into a COVID-19 research and surveillance powerhouse
9 AM US/Canada Pacific Time, May 5, 2020

Webinar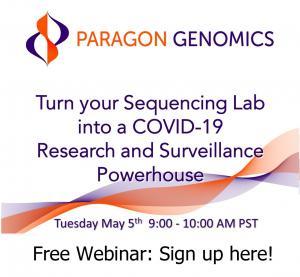 Attend Paragon Genomics Webinar to learn more!
Learn about how to turn your Illumina and MGI sequencers into COVID-19 coronavirus (SARS-CoV-2) research and surveillance powerhouses by utilizing Paragon Genomics' CleanPlex SARS-CoV-2 NGS Panel. This NGS panel is based on a highly sensitive amplicon sequencing technology and designed specifically for selectively amplifying and sequencing the full genome of SARS-CoV-2 virus. During the webinar, our Application Scientist will show some panel performance data shared by our clinical collaborators. You can view a snapshot here too.
At Paragon Genomics, we develop and commercialize rapid, easy-to-use, ultra-high multiplex PCR-based target enrichment solutions for Next-Generation Sequencing (NGS). Our proprietary CleanPlex® background-removing technology enables NGS customers to develop targeted sequencing assays that are accurate, sensitive, and simple, yet cost effective. Paragon Genomics responded quickly to the COVID-19 pandemic and developed amplicon-based targeted sequencing panels quickly for sequencing the full genome of the SARS-CoV-2 virus. We are committed to supporting the global efforts on COVID-19 coronavirus research and surveillance.
Click this link to register.