ESHG 2018 | 06.16.2018 – 06.19.2018 | Milan, Italy
Paragon Genomics | Booth #358

Accelerate your liquid biopsy research and assay development using CleanPlex® UMI technology for precise ctDNA analysis
Our mission at Paragon Genomics is to develop technologies that will help you build fast, scalable, and, and most importantly, reliable NGS-based assays.
At the 2018 ESHG Conference, we will be presenting our new CleanPlex® UMI technology for confident detection of ultralow-frequency somatic mutations in cell-free DNA. Powered by a 3-step, single-tube workflow, molecular barcoded and target-enriched NGS libraries are generated from input DNA in just 3 hours. Our proprietary duplex unique molecular identifiers (UMIs) technology also ensures efficient use of sequencing reads for error correction.
Need custom solutions?
Targeted sequencing is better and simpler than ever using Paragon Genomics' CleanPlex® technology. Turn-around time for custom panels is just 2-weeks. Stop by our booth to learn how we can help you customize your own NGS panels so you can discover more with less.

Discover more with CleanPlex NGS Panels

Up to 20,000 amplicons per pool

High coverage uniformity

High on-target rate

High target design rate

Use less with CleanPlex NGS Panels

Inputs as low as 100 pg*

Fast 2.5-hour protocol

Simple single-tube workflow

Efficient use of NGS reads

*Higher input amounts may be required for detection of low-frequency variants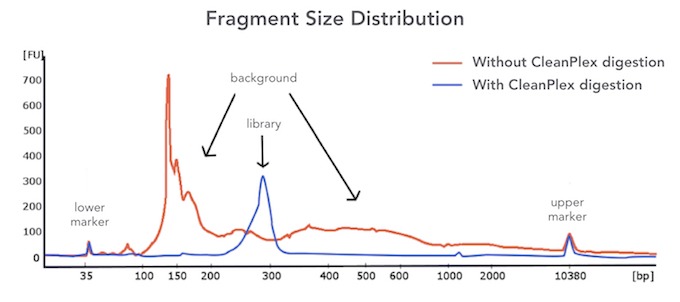 Learn how CleanPlex technology can help you obtain high-quality data and reduce cost of sequencing
Download our technical note to learn more about CleanPlex technology
Submit a custom panel design request
Talk to our Experts – Booth #358
Visit us at booth #358 to speak with our scientists about our CleanPlex® UMI technology and discuss your custom NGS panel projects.
Our award-winning posters will be available for viewing in our booth throughout the exhibition.
We are expecting high booth traffic, so please sign up below to schedule a one-on-one meeting.

Sign up here to schedule a one-on-one session with our experts to discuss your research or assay development projects.